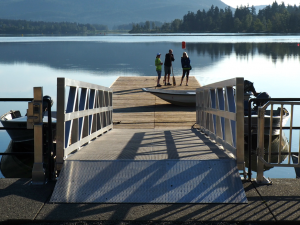 Take advantage of our many years of experience building custom-designed and standard aluminium ramps and be sure that we will handle your project with great care and precision.
Our team will work with you from the start to determine the best solution for your location and use. To meet your every requirement, we will develop a personalized ramp that will assure you:
Safety
Functionality
Sturdiness
Durability
Not to mention the good-looking, smooth finish that will enhance your property, no matter your location.
We build 3 types of top quality aluminium ramps:
Light duty aluminium trussed ramps for the home owner
Specifically engineered public access walkways for commercial and government clients
Custom bowstring ramps that give your waterfront a unique look
Light duty aluminium ramps
Our light duty ramps are geared toward the homeowners who want access to their dock and have a visually pleasing product. These ramps are fabricated in several different truss styles for a range of different looks. This style of aluminium ramps have a wide range of customizable options:
Great choice of decking types
Mid rails, kick rails, pickets, etc.
Transition plates
Ramp hinge connections to shore and dock
Etc.
Custom engineered aluminium ramps
Custom engineered ramps are not for every home owner and find a place among commercial, industry and government clients all over Canada. Our team can design and fabricate the ramps in-house and add any custom option required:
Electrical trays under the ramp
Unistrut service attachments on the sides
Special hinge or transition plate
Security gates
Etc.
We understand that not every town or city has the same bylaws in regards to how they view design codes on ramps and we are able to satisfy any building permit requirements in any area. If you don't want everyone to have access to your ramp, we can also design and fabricate custom security gates.
Custom bowstring aluminium ramps
If the standard ramp is not to your liking, we offer custom-designed and fabricated bowstring ramps. These ramps stand out along the shoreline for their graceful arcing top rail. Along with our other styles, this one offers a range of customizable options to best suit your site.
Contact us today at 250 597-3625 to find out how we can help make your dream a reality.
Let's get your ramp project started.