Beach Stairs
&

Backcountry Stairs
Safe and durable stairs that embrace the landscape of your property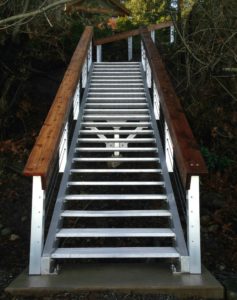 Our standard backcountry stairs have many available options to dial in the perfect look for a waterfront location or an area surrounded by trees.
With years of experience in remote installation work, we pride ourselves on leaving the natural beauty around the stairs intact and safe during the process.
Our design allows us to bring sections of stairs to site and to bolt them together in place.
To suit our customers needs and budget, we offer a choice of:
Aluminium, steel and wood stair treads
Aluminium handrails
Stainless steel cable rails
Cedar clads
A mixture of options
Powder coating is also available for stairs to better blend into their surroundings.
With a hand-held screw pile machine, we are able to install solid foundations in almost any location with the minimal use of concrete and minimal ground disturbance.
Contact us today at 250 597-3625 to see what we can do for you!
Let's get your project started.